Robert Herjavec is the person who took industrial business to the next level. In the modern world, computers are used in almost all sectors. But the main problem is the computer security. Herjavec has made the solution for it by founding Internet security software. From this article, you will learn about Robert Herjavec net worth and how he earned it through a successful business plan.
Who is Robert Herjavec?
Robert Herjavec is a Canadian businessman. He is also a television personality. Robert Herjavec was the founder of the internet security system "BRAK Syatem" in 2000. He founded "The Herjavec Group," which is one of the largest IT and computer security technology companies in Canada. Herjavec also appears on many TV shows, such as "Dragons' Den," "Shark Tank,"  and many more.
Short Bio Of Robert Herjavec
| | |
| --- | --- |
| Full Name | Robert Herjavec |
| Birthdate | September 14, 1962 (age 60) |
| Birthplace | Varaždin, SR Croatia, SFR Yugoslavia |
| Nationality | Canada |
| Height | 5' 9" (1.71 m) |
| Profession | Founder of BRAK Systems And CEO of The Herjavec Group, |
| Social Media |  Instagram, Twitter |
| Net Worth | $300 million |
Early Life
Robert Herjavec was born in Varaždin. His father was an anti-communist and was sent to jail 22 times for this. Herjavec's family left the country, and he grew up on a firm. He was raised by his grandmother. He found himself in a much poorer economic condition than his neighbors. Later, his father came back and joined a factory fob for $76 per week.
Herjavec completed his graduation from "The University of Toronto". Here, he got a degree in "English Literature" and "Political science". Robert Herjavec took low-paying jobs to support his family, such as waiting tables, delivering newspapers, retail sales, and debt collection in 1980. In that time, Herjavec also worked on several productions like " Global TV."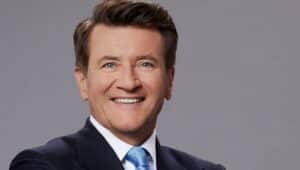 While looking for a job in production, he applied for a position in Logiquest, selling IBM mainframe emulation boards. He didn't qualify for the job, but Herjavec convinced the hiring manager to give him the job for 6 months of free work without salary. Herjavec waited tables during his free period. Later, he proved his talent in that company and became a General Manager. In 1990, Herjavec was fired from the company.
As he worked in IBM's mainframe computer company, Robert Herjavec got some knowledge from there. With his knowledge, he founded a Canadian integrator of internet security software named "BRAK System." Herjavec invented it from the basement of his house.
Later, Herjavec sold this Technology to  "AT&T Canada" company. From this, he started his business career and founded his own business, "The Herjavec Group."
Robert Herjavec net worth
Robert Herjavec's net worth in 2023 is estimated to be $300 million. Starting a career as an employee in IBM Mainframe to a software developer, Herjavec made an incredible change in his net worth status. Founding own business that sells computer software is the pillar of his net worth. Also, appearing in TV shows and series adds an extra layer to Herjavec's financial status.
Facts Behind Robert Herjavec net worth
Early Career In Film
Robert Herjavec started his career as third assistant director in the mid-80s. He worked for "Cain and Abel" production and also for the film "The Return of Billy Jack."  In 1984, Herjavec worked for "Global TV" as a field producer. These projects from Herjavec's early life had some effect on his net worth.
BRAK System
In the year 2000, Herjavec founded a computer internet security system software. He named it "BRAK System". It protects computers from malware attacks. He founded it at a time when malware attacks were the main problem for computer internet users.
As his software's demand rose to the top. "AT&T" (now Allstream Inc.) bought this software from him. They paid $30.2 million to Robert Herjavec for the software. This huge amount of profit undoubtedly makes a great impact on his net worth.
The Herjavec Group
Robert Herjavec founded his own company, "The Herjavec Group," in 2003. The company provides security solutions integrator, service provider, and reseller. This company started serving people exactly the things needed in the beginning era of computers. That's why it became the largest growing company in Canada.
The Herjavec Group has grown sales from $400,000 to $200 million profit per year. Now, we can see that this company generates a huge amount of profit that adds to  Herjavec's net worth every year.
Television
Besides being a businessman, Robert Herjavec is also a television person. He appears on many TV shows and series. In "Dragons' Den (seasons 1 to 6)", Herjavec appears regularly. Not only in Canadian TV but also on the US television series "Shark Tank". Also in 2015, Herjavec participated in "Dancing with the Stars (Season 20)" with Australian dancer Kym Johnson. As he is famous on television, those shows hired him with a good amount of payment which boosted his net worth.
Investments
As a successful and wise businessman, Robert Herjavec has made many business investments. He buys a 10% stake for $100,000 in a sweater company, "Tipsy Elves." Herjavec also invested in "Aura Bora," an herbal sparkling water company. All of his investments were successful. Herjavec generated a lot of money from those investments.
Awards
Diamond Jubilee Medal in 2012
Young Entrepreneur of the Year in 2012
Personal Life
Robert Herjavec married an optometrist, Dr. Diane, in 1990. They have two daughters and one son. Herjavec and Diane divorced each other in 2016. Later, Herjavec married his ex-dance partner in "Dancing with the Stars" Kym Johnson. Herjavec and Kym now have a twin baby.
FAQs
How much does Robert Herjavec make a year?
Robert Herjavec makes around $123 million a year.
How rich is Robert in 2023?
Robert Herjavec's net worth in 2023 is estimated to be $300 million
When did Robert Herjavec get rich?
Robert Herjavec got rich because of his company "The Herjavec Group's success.
Is Robert Herjavec a millionaire?
Yes. Robert Herjavec is a millionaire with a total net worth of $300 million.
Final Thought
Robert Herjavec net worth is a testament to his wiser decisions in business ventures. From a tech employee to a founder and owner of a tech giant, The  Herjavec Group, reflects on taking the right ventures at the right time.