Aquaphor is a multi-purpose ointment used for dry skin and minor wound healing. Since it is petroleum jelly, you can expect positive spillover effects. We dog owners frequently see our dogs getting hurt and having other skin problems. So, can you use Aquaphor on dogs?
Well, yes. Aquaphor is a safe and effective substitute you can use to treat your dog. It works best for irritated skin, pressure sores, rashes, hyperkeratosis, etc.
There is more to learn about Aquaphor and how it is beneficial for dogs. So let's begin.
What Is Aquaphor?
Aquaphor is none other than petroleum jelly. It is also referred to as over-the-counter ointment.
You must have heard about Vaseline. It is a famous petroleum jelly that everyone uses. In the same way, Aquaphor works like petroleum jelly. But it is not completely the same as vaseline.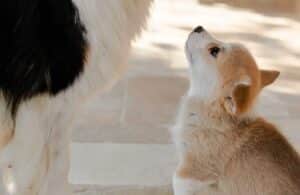 Vaseline is 100% petroleum jelly, whereas Aquaphor has 41% petroleum jelly. The other 59% of ingredients consist of mineral oil, bisabolol, glycerin, and lanolin alcohol.
Aquaphor is used as a medication. You can use it for dry, itchy skin and to heal wounds.
Can You Use Aquaphor On Dogs?
Aquaphor is a safe ointment for dogs. It mainly targets the dryness of the skin. Many veterinarians suggest using Aquaphor on dogs when they get minor cuts or dryness on any body part.
The reason Aquaphor is safe for dogs is because of its non-toxic elements. Thanks to its mineral oil content, it leaves no side effects on the skin.
Although it is considered safe to use this petroleum jelly on pets, it would be better if you consulted with the vet about it.
Note: Some dogs may get allergic reactions from Aquaphor If you see any such side effects, do not use it for your dog.
When Should You Use Aquaphor On Dogs?
Most commonly, Aquaphor is a helping hand for typical skin issues, such as dry skin, rashes, etc. Well, there are some other wits' ends that require an appliance of Aquaphor on dogs.
Minor Injuries
Cuts, scrapes, and burns are things dogs face randomly. If they are minor, you can apply Aquaphor to your dog. Even this needs the consultation of the vet.
Hyperkeratosis
Along with humans, dogs also get thick and dried-out skin sometimes. This is called hyperkeratosis. You must have seen it in your dog's nose, paw pad, or any other sensitive area. If the complex is less, Aquaphor can be a solution.
Rashes And Sores
Dogs may get rashes due to the collar chain, diapers, etc. You can treat the minimal rashes with Aquaphor. In the same way, you can treat the pressure sore on your dog.
What Are The Benefits of Using Aquaphor On Dogs?
As it is considered safe to use Aquaphor on dogs and humans, it must be because of its benefits. Let us know what those boons and banes are:
A Safe Petroleum Jelly
Aquaphor is not only a safe alternative for humans to use but also for pets. Thus, you won't have to buy any extra ointment for your dog, as the Aquaphor is enough to go around.
Treats Hyperkeratosis
Irritation or inflammation of the skin can lead to hyperkeratosis. Unfortunately, dogs also face it. In that case, you can use Aquaphor to treat this problem. Remember, you must apply it on your dog after giving it a proper bath.
Can Be Used As A Moisturizer
Other than wounds and cuts, your dog may have typical skin problems like peeling paw pads, grumpy skin, a brittle nose, etc. In that case, your common sense of using Aquaphor will work.
Cures Pressure Sores
Like a general ointment, Aquaphor can be beneficial for pressure sores. Just apply a thin coat of it, and you will surely get results. But make sure your dog doesn't apply pressure to that area.
Treats Rashes
All dog owners can relate to this. Dogs sometimes go through urinary incontinence. At that time, his guardian will make him wear a diaper. Being dressed in a diaper for a long time can cause rashes. Luckily, Aquaphor is second to none in terms of treating rashes.
How To Use An Aquaphor on Dogs?
Following the right steps in using Aquaphor can get your ducks in a row. So have a look below.
Take a little amount of Aquaphor on your fingers. Then rub it on the areas where your dog has dry and itchy skin.
For instance, if you are applying Aquaphor to your dog's paw pad, you have to do an additional step. That is, putting the bootie over your dog's feet. Keep it like that for 30 minutes to an hour.
Dos And Don'ts Of Using Aquaphor On Dogs
Here are some points you need to keep in mind while using Aquaphor for your dog.
Dos:
Applying on paw pad hyperkeratosis
Applying to irritated skin
Applying to a dry nose
Applying to pressure sores
Don'ts
Using it as a substitute for the recommended medicine
Ingesting
Applying to deep wounds
Side Effects Of Consuming Aquaphor For Dogs?
Petroleum jelly products, like Vaseline and Aquaphor, are safe for external use. It means you can use them on your skin without any tension. But you will suffer consequences when you consume it.
Since we humans are sensible, we won't consume Aquaphor. But dogs don't know about it. So they may try to consume the Aquaphor, especially when they are feeling curious, bored, and stressed.
Here are some adverse reactions that your dog may face due to it:
Vomiting
Nausea
Diarrhoea
Canine sick
Alternatives Of Aquaphor For Dogs
No doubt, an Aquaphor offers immense benefits. It is quite rare compared to Vaseline. So all of us may not own it. Don't worry if you are one of them. There are many alternatives you can use instead of Aquaphor.
Olive Oil
Olive oil is a great moisturiser that works magic on dry and flaky skin. It also works with healing. So if you don't have Aquaphor, use olive oil.
CBD Oil
Like olive oil, CBD oil works as a rich moisturizer. Along with humans, dogs and other pets can heal their skin problems with CBD oil.
Coconut Oil
Since ancient times, coconut oil has been used as a great remedy to treat skin. You can also try it out if you don't have Aquaphor.
Note: Do not use hydrogen peroxide on your dog, even if it moisturises the skin. It is only effective for humans, not pets.
Frequently Asked Questions: Can You Use Aquaphor On Dogs
Is Aquphor safe for dogs' hot spots?
You can't treat hot spots in a dog with Aquaphor or any petroleum jelly. A veterinarian won't recommend you use it but a soothing agent.
Which is better for wounds, Aquaphor or Vaseline?
Both Aquaphor and Vaseline are effective in treating minor wounds. But it is better to avoid Aquaphor if you are allergic to any of its ingredients. On the other hand, Vaseline serves all purposes.
Does Aquaphor speed up healing?
Like any reliable ointment, Aquaphor speeds up the healing process. Remember, it is applicable for use on minor wounds, not major wounds.
Final Thoughts
So far, it is clear to us that Aquaphor is a game-changer not only for humans but also for dogs. Your care should be safe rather than sorry. So consult a vet before using any substance on your dog, including petroleum jelly.
You can use Aquaphor on your dog for some rare issues too. Like scaly elbows, minor hot spots, dog paws, crusty faces, and so on.
Do not use Aquaphor if you see any sort of reaction after applying it. Also, keep it out of your dog's reach, as dogs tend to consume them.